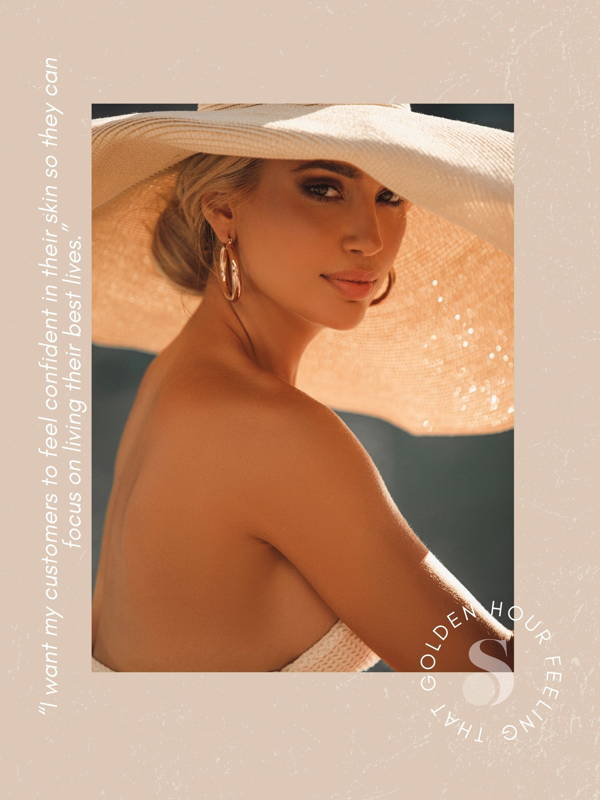 Lauren Alexandra is a Texas–based Entrepreneur with a focus on beauty, style, travel, and wellness. She aims to empower women to embrace the best version of themselves, age gracefully, and cultivate a glow from the inside out.
The sun has a significant impact on the way our skin ages, looks, and feels. As beautiful as the sun may be, it's not beautiful to our skin. The best way to minimize sun damage is to prevent as much of it as you can in the first place.
Almost a decade ago, Lauren decided to give up tanning beds and make the switch to self tanning. After trying almost every product out there, she fixed one problem and created another: most of what was available on the market wasn't formulated with 'clean' ingredients. Tans fade but damage doesn't; your skin is the largest organ, and it is so important to use "good-for-you" ingredients. There was a gap in the market, and this is how Soleil was born:
After several years of research, development, and testing many different formulas she was determined to create a nontoxic tanning product with the added benefits of skincare that would achieve everything on her checklist.
Lauren teamed up with leading industry experts to develop a clean sunless tanning mousse loaded with antioxidants and nourishing ingredients to not only provide an immediate healthy faux glow but also give your skin the cocktail it deserves. Leaving the skin more radiant no matter what your age.
Soleil is the result of Lauren's passion for beauty and wellness and a belief that beauty comes from within. Soleil is designed and manufactured in the United States, it's cruelty-free, vegan, free of harsh chemicals and good to your skin.